Help us save the remaining orangutans by adopting the orangutan Valentino for yourself, a friend or a family member for just £3 a month.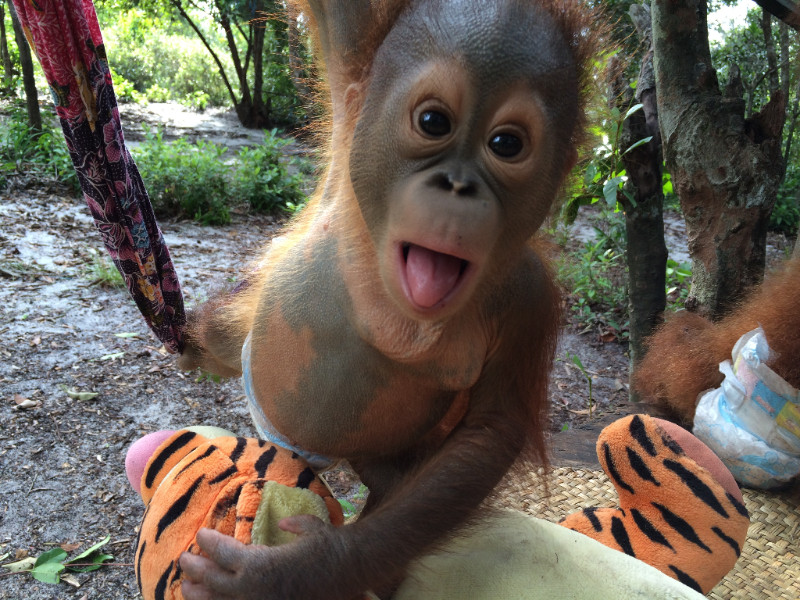 We received a little orangutan baby at our rescue center Nyaru Menteng on Valentine's day, 2015. The baby was saved by a truck driver, who found it all alone and hungry on a river bank, near a rubber plantation in the central part of Borneo.
A fragile orangutan
The baby was unusually small, and the medical team stated that he only weighted 2.2 kilos at arrival, despite that he was only six months. We don't know what happened to him before his arrival, but he had several bruises on his body. If he had arrived any day later at Nyaru Menteng, it is not sure that he would have survived.
Love has worked miracles
A small orangutan baby needs lots of love and care from its mother and this has been given him in plentyful by our staff. He was given the name Valentino, and he is a very lovely orangutan baby who accepts the care from humans with ease. He shows signs of being very intelligent and he is very loved by the other orangutan babies. With the right support and stimulation, he will definately be able to return to Borneo's rainforest.
Arrival at center: 14th Febuary 2015
Age upon arrival: 5-6 months
---
Watch this video with Valentino form 2016
---