Threats against the orangutan
There are many threats to the last remaining orangutans. Deforestation, forest fires, poaching and illegal pet trade are causing great damage to the red ape population of Borneo.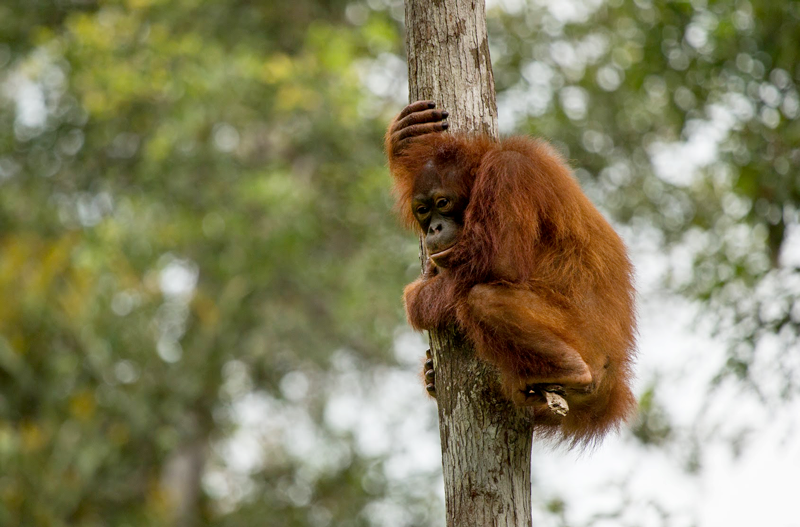 Borneo was once covered with lush rainforest, a green carpet hosting one of the most diverse ecosystems on land. More than 17% of the world's bird species, 16 % of the reptile-amphibians and 12 % of the world's mammal species are found on Borneo, and many of them nowhere else.
One of the most charismatic residents of Borneo is the orangutan. Roaming the canopies of the rainforest as the "man of the forest", it is sharing more than 97% of its DNA with humans. But over the past century the population has decreased with 80-90% pushing the orangutan towards extinction. The majority of the remaining orangutans are found in Central Kalimantan known to most as Indonesian Borneo. Through the past two decades extensive deforestation and commercial exploitation of land, thousands of hectares of orangutan habitat has been lost, leaving many orangutans homeless, migrating and exposed to human conflict.
Read more about the threats to the orangutans here >>
Nyauru Menteng, located in Central Kalimantan, holds the position as the largest orangutan rehabilitation centre in the world. Approximately 500 orangutans at various stages of rehabilitation live at the centre, and unfortunately new orangutans arrive every month. The primary causes for the Nyaru Menteng rescue team to move out continue to be related to deforestation or illegal pet trade.
During the forest fires of 2015 alone, 89 orangutans were rescued. Some can be translocated immediately, while others need medical care and support in rehabilitation before they are ready to be released back into the wild. Other reasons for orangutans to be rescued are: Human conflict as orangutans searching for food in plantations are seen as pests and therefore often injured or killed; deforested areas where orangutans are found weak and starving; and illegal pet trade. This was the case with rescued baby Kejora who was held in captivity at a palm oil plantation.
In order to conserve the orangutan for future generations to experience it is critical that the rainforests of Borneo are conserved and deforested areas can be reforested.
Read more about Save the Orangutan work to protect Borneos rainforest

Plant a tree in Borneo each month with an SOS Borneo partnership