A great opportunity to make a practical difference for the Bornean orangutan
Spend 2 weeks at the Samboja Lestari rehabilitation centre and the 150 orangutans and 50 sun bears in their care.
You have the opportunity to volunteer at BOS Foundation's rehabilitation centre in East Kalimantan in Borneo, Samboja Lestari, via our international partner, BOS Australia.
You will become an important part of BOS Foundation's orangutan enrichment programme at Samboja Lestari. The volunteer programme is coordinated and managed directly through BOS Australia.
The enrichment programmes are crucial to the orangutans' rehabilitation process. The staff teaches the orangutans how to forage, use enrichment tools, and improve their agility, all of which are crucial for the orangutans' survival in the rainforest. Being a partner to BOS Australia, who manages the volunteer programme, Save the Orangutan presents our supporters with this opportunity.
Experience
Observe orangutans in their natural habitat
Help create enrichment tools for the orangutans with other volunteers
Live and work in the rainforest and become a part of the local community and culture
Spend time with sun bears and go to local markets
Help improve the life of the un-releasable orangutans
Meet the fantastic staff of Samboja Lestari who care for the orangutans on a daily basis
Experience the impact of your contribution
Information: BOS Australia Volunteer Programme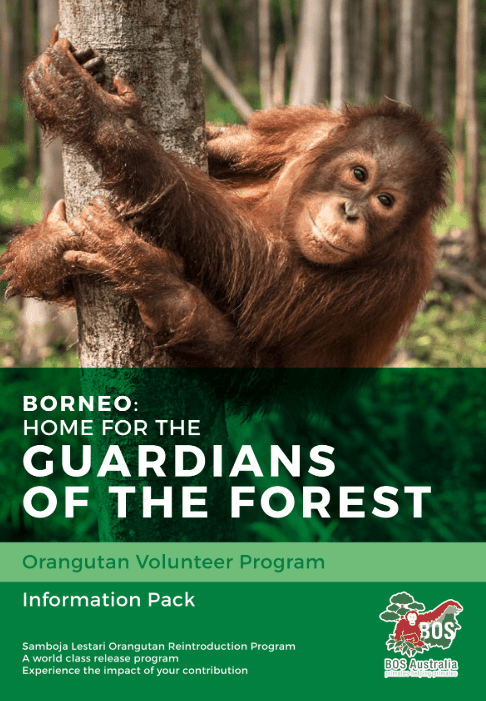 Download folder
How to volunteer
After registering, BOS Australia will guide you through the process. All questions regarding the trip and programme has to be directed to their qualified and experienced team.
You can also start by reading the information folder from BOS Australia above.
You are more than welcome to send us an email if you need inspiration on how to raise funds for the programme.

Practical information
You will spend 14 days on BOS Foundation's Samboja Lestari rehabilitation centre
You can choose between different fixed departure dates.
Prior to your departure, you must have raised a minimum of AUD 1000 (approx. DKK 4700). This goes directly to the rehabilitation work on BOS Foundation's centres.
You will stay at Samboja Lodge which belongs to the rehabilitation centre. 14 days in a double room incl. transfers, all meals, all trips amount to approx. DKK 4000.
You are responsible for booking your own flight tickets. They typically cost between DKK 5,000-12,000 depending on the date and airline.
You must be at least 18 years old and speak English.
Registration can only be done through BOS Australia, the arranging and managing actor of the programme. Australian volunteer coordinators will be available at the centre.
It is not allowed to enter the centre alone, or to be in physical contact with the orangutans at any time during the stay.