Saving the endangered orangutan is at the very heart of Save the Orangutan's work, and in order to do make sure that future generations can coexist with orangutans, we focus not only on saving the remaining orangutans, but also on saving their home, Borneo's rainforest, and sustainable development in the local communities. This holistic approach is necessary since it is estimated by IUCN that 86 per cent of the orangutan population will be gone by 2025 and the same goes for 60 per cent of Borneo's rainforest.
Save the Orangutan supports the world biggest rehabilitationcenter for orangutans, Nyaru Menteng. The center also has aspecial rescue team that is called out when orangutans are kept as pets or when they live in a forest which is to be cleared. Furthermore, the purpose of the rehabilitation process is to make the orangutans capable of surviving on their own in the wild, when they are released into special areas in Borneo's rainforest.
Read more about the rescue team >>
Read more about the rehabilitation center >>
Read more about the releaseprocess >>
Save the Orangutan aims to curb deforestation in Borneo's rainforest and to restore damaged forest in order to make sure that orangutans also in the future will have a home to return to. Save the Orangutan has therefore developed the programme SOS Borneo that plants new trees, protect the existing forests, and equip local firesquads.
It is only possible to save the orangutan and the rainforest on Borneo by involving the local people in the process and support them in finding a sustainable livelihood.
---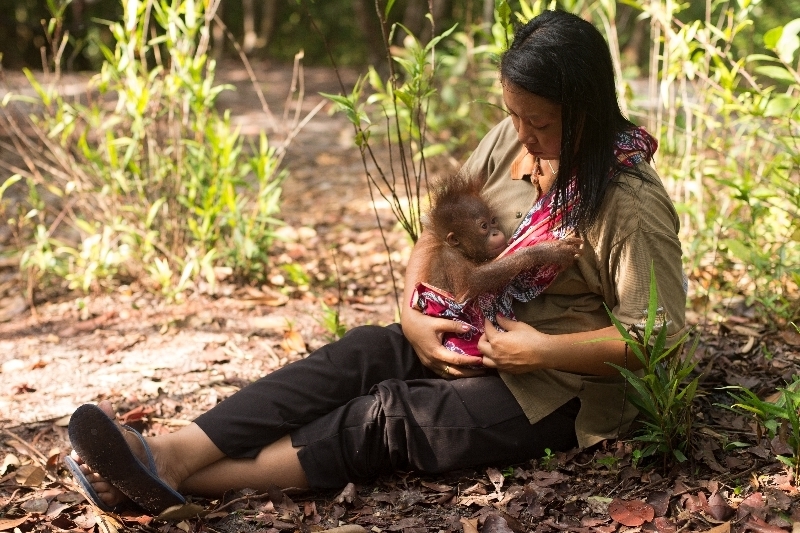 Locally anchored collaboration
Our activities are conducted in close collaboration with the Borneo Orangutan Survival Foundation (BOS), which is the largest player in Indonesia when it comes to orangutan conservation.
---
This is a trailer for 10 We Love Orangutan's videos. They all give insight into the extensive work that Save the Orangutan supports in order to save the endangered orangutan. Follow this link and watch the videos >>