Funds donated to Save the Orangutan primarily go to the orangutans at the Nyaru Menteng rehabilitation centre. Some of the funds are also allocated to the protection of the 6000+ wild orangutans in the Mawas and Rungan area and to Save the Orangutan's awareness raising efforts and evaluation of the supported activities in Borneo.
A smaller proportion of funds donated to Save the Orangutan is allocated to fundraising activities, donor relation, and administration.
Distribution of funds in 2019
Funds raised
Save the Orangutan raised DKK 19,1 million in 2019 from private donors, foundations, and businesses, DKK 17,6 million of which were raised in Denmark, DKK 1,3 million in Sweden and 0,2 million in England and Wales.
Distribution of funds
In 2019, Save the Orangutan distributed DKK 15,0 million to purposeful activities, corresponding to 78.6% of funds raised. DKK 11.2 million were transferred to our partners in Borneo.
Save the Orangutan spent a total of DKK 4,0 million, corresponding to 21 % of funds raised, on donor relation, administration, and fundraising activities in 2019. The administrative expenses were 4.6% in 2019. 0.2% of funds raised were retained for new efforts in 2020.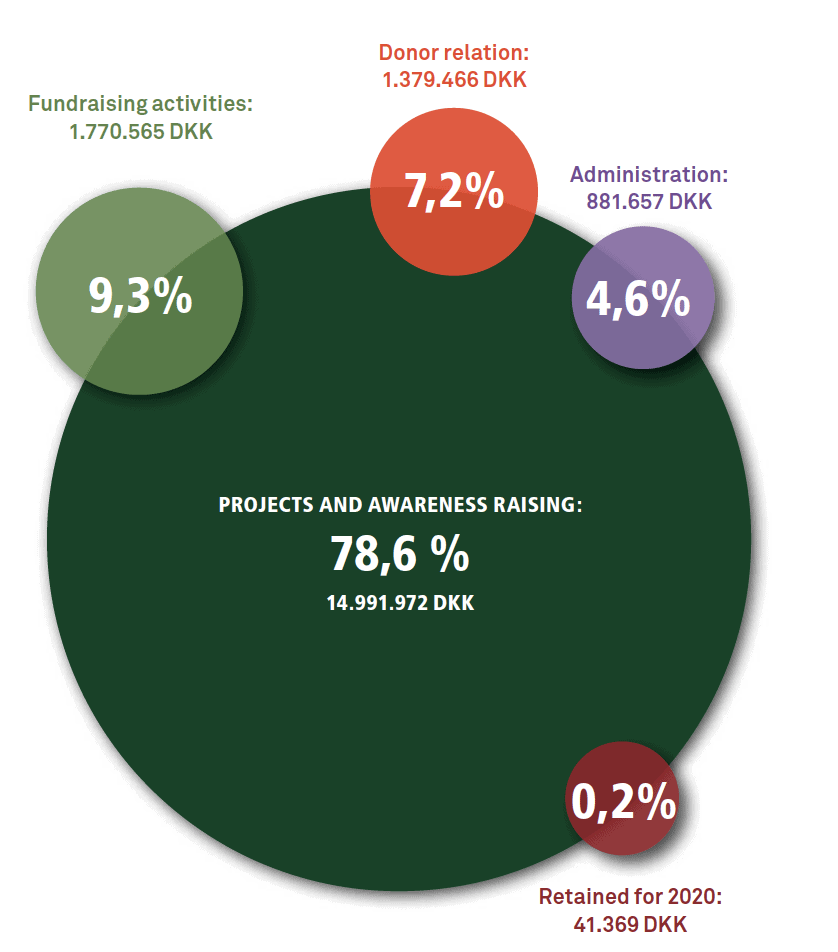 Graphics from Highlights and Results 2019      
Save the Orangutan complies with the applicable national guidelines, proper ethics, and regulations in relation to fundraising and distribution of funds as charitable organisations. For more information on this, check out the individual organisations' websites by following the links below.