Alba, the world's only albino orangutan, was released into the Bukit Baka Bukit Raya National Park (TNBBBR) in Central Kalimantan, Borneo a month ago. The first report from our partner BOS Foundation reveals she is thriving.
Alba is doing well in the forest. This is the conclusion on the daily monitoring of her performed by experienced monitoring teams and a veterinarian from the Nyaru Menteng rehabilitation centre.
Since her release on the 19th of December 2018, a monitoring team has followed Alba regularly. They have observed her movements, her general health, her behaviour, her foraging for food, and her ability to nest both day and night.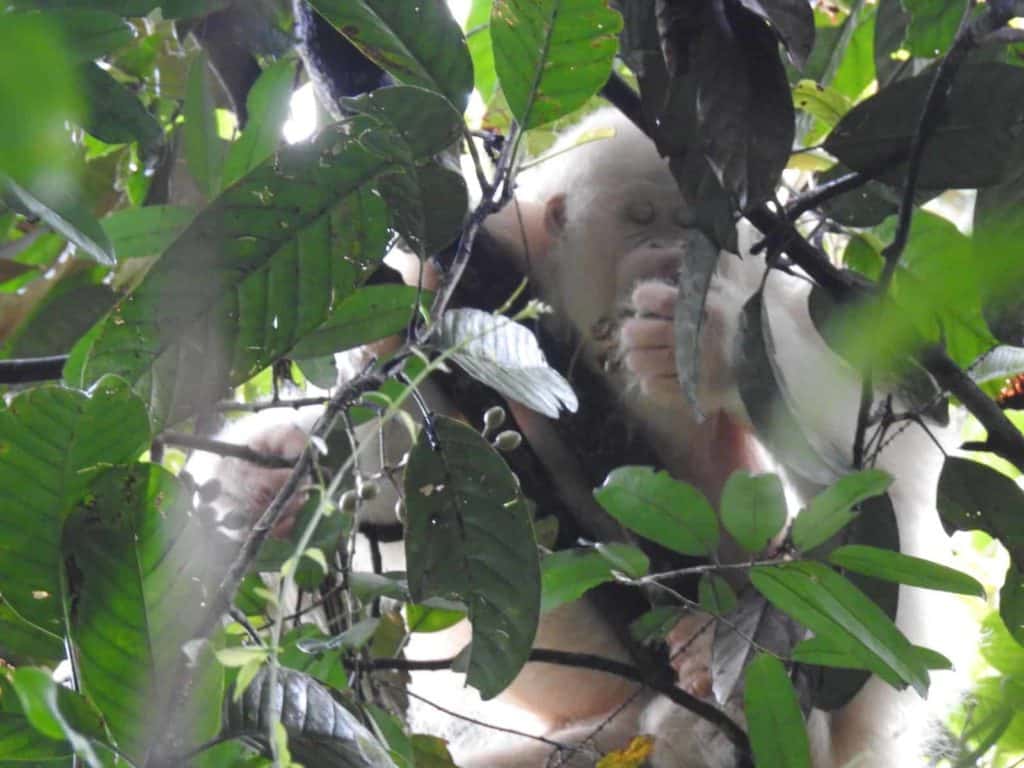 Positive feedback from the monitoring team
Alba has been rather active, and she has only left the treetops occasionally to find sprouts. All her movements suggest her wild instincts are well developed. Fortunately, there has been no need to intervene, supplement, or help Alba in any way.
Dr. Jamartin Sihite, the administrative CEO of BOS Foundation, says:
"Our first month of monitoring data reveals that Alba is healthy and adapting well to life in the forests within the Bukit Baka Bukit Raya National park (TNBBBR). Her adaptation is impressive, but it is no surprise to us. We have estimated she had spent 4-5 years in nature with her mother before we rescued her from captivity in a village. It looks like she remembers what her mother taught her. Nonetheless, we will continue to monitor her closely. She moves and eats well, nests, and socialises with other released orangutans. Moreover, she has moved quite far from her release site – a full 4 km."
"Our daily monitoring of Alba is carried out from sunrise to sundown, a process we call nest-to-nest observations. We plan on continuing this process for the next five months. This results in six months' worth of data on her adaptation and progress. After this extended and intensive initial monitoring process, we will continue to observe her in accordance with our standard protocol for monitoring the other released orangutans. Consequently, we will check her radio signal and observe her regularly in the next few months."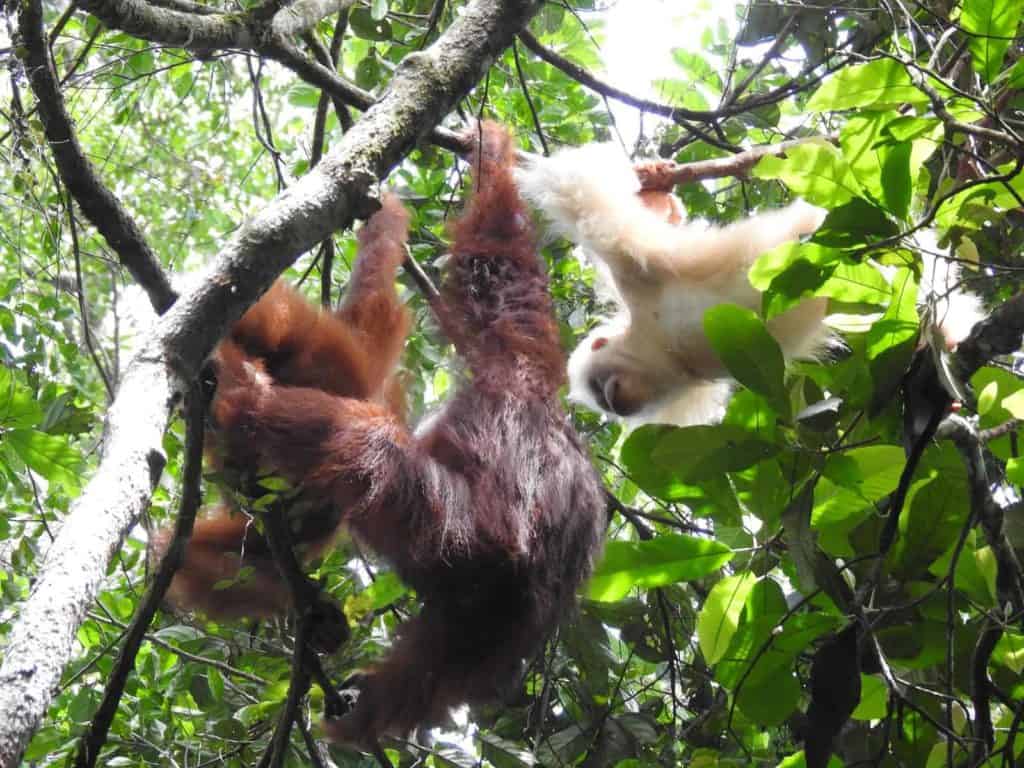 Alba has met and socialised with other orangutans
Because the area in which Alba was released covers approx. 128,000 hectares, it is rather difficult to monitor her for extended periods of time. However, BOS Foundation and the staff in the national park have divided the monitoring between them, and they are certain they can provide the protection she needs. Naturally, the long-term sustainable protection of the national park's wildlife is key in the survival of Alba and the other released orangutans in the area.
"Alba was very social during her first month in TNBBBR. She was often spotted with Kika, the 6-year-old female orangutan Alba was released with. She has also been spotted with Miri and Winda, two adult female orangutans that were released in 2016. We hope that spending time with these experienced orangutans will improve her learning and thus increase her chances for long-term survivability in nature," Jamartin Sihite explains.
Our partner BOS Foundation will continue its work in collaboration with all the relevant stakeholders, including the Ministry of Environment and Forestry (KLHK), BKSDA Central Kalimantan, the TNBBBR authorities, the Central Kalimantan Provincial Government, the Katingan District Government, and the local communities.
Read about the thoughts and plans behind Alba's and Kika's release here >>