The forests of Borneo are on fire, and Save the Orangutang's partner is in the highest alert. There are big concerns that the situation will be worse than four years ago, when the island was hit by the largest global environmental disaster of the 20th century.
A wall of smoke. That is what you are greeted by when you arrive at Borneo at the moment. Even if you drive for several hours, you see nothing but fires on both sides of the road.
Having just visited Central Kalimantan this is how Safe the Orangutan describes the serious scenes that are currently taking place on Borneo.
– It is really sad to see, and we hope that we are able to find the funding very quickly to ensure that the situation does not develop as in 2015, program manager Marie Sigvardt says.
The smoke and ash from the fires is massive, and for both humans and animals it is hard – andsometimes dangerous – to live in. It also often affects the surrounding countries.
The dry season is expected to peak in September, and with the huge scale of fires as early as August, there are serious concerns about how the situation is developing.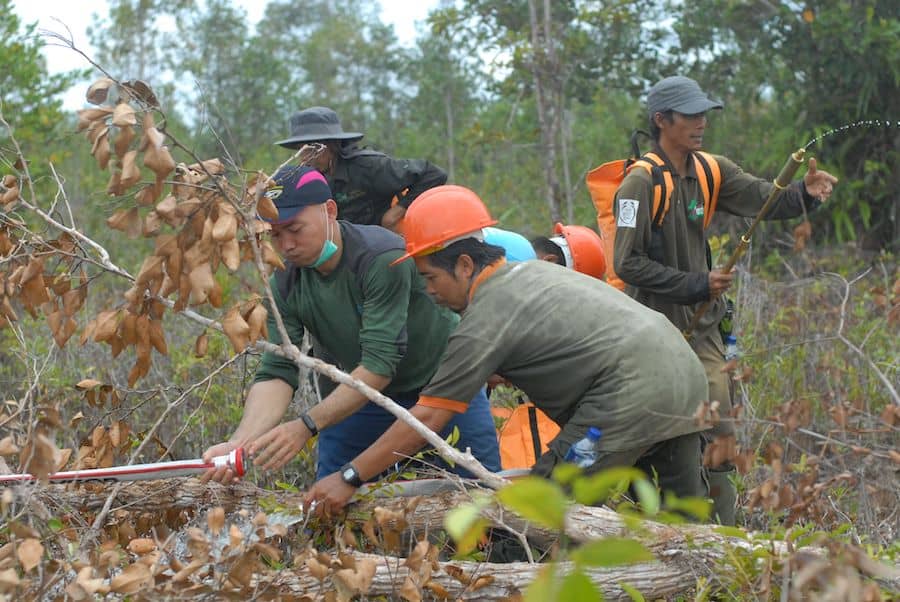 Fires close to the orangutans at Nyaru Menteng
Last week the fires were looming near the Nyaru Menteng rehabilitation center, where more than 330 orangutans are located. As close as 300 meters.
In this case, the team from Save the Orangutan's partner, the BOS Foundation, was able to respond quickly and coordinate with local authorities who helped put out the fire.
The quick response and fire extinguishing is not least due to the fire zone prepared by the team at Nyaru Menteng by clearing a number of trees around the center and digging wells throughout the area.
As the forest fires approach the forest school and the center, it is therefore easier for theteam to prevent the flames from spreading.
With the awareness that the dry season is expected to peak in September, employees continue to be in the highest alert.