Some orangutans at the rehabilitation centres will unfortunately never be able to learn the necessary skills to survive in the wild. Therefore, it is a joy when these so-called unreleasables can move to forested islands specially adapted to their needs.
Orangutans Dilla, Mawas and Jeliva have had a fantastic start to 2021.
All three orangutans can for various reasons not live on their own in the wild. They are so-called 'unreleasables'. But there is another solution for them: A life on the sanctuary island Badak Kecil, with an environment similar to that of a natural forest where they are monitored and continue to receive the support they need.
For almost a year, the corona pandemic has prevented all transports of orangutans to the islands due to risk of infection. Now, however, it has become possible to transport them the most of the way by boat and thereby avoid high risk areas.
Therefore, our partner organisation BOS Foundation was finally able to release the three orangutans to their new home last week, and it could not have gone better.
Read: Efforts to prevent corona near rehabilitation centres continue after positive results
A rainforest home for orangutans that cannot live on their own
The island Badak Kecil is 104 hectares and part of the small cluster called Salat Islands. Here, several islands are so called pre-release islands, used for orangutans that are soon ready to be released into the wild. However, the island Badak Kecil is specifically created as a sanctuary for orangutans who are physically healthy, yet lack sufficient natural skills and behaviours to be released to the wild.
This is the situation for Dilla, Mawas and Jeliva. The three females, aged 13-17, have all been part of the rehabilitation program in Forest School at Nyaru Menteng, but none of them were able to learn all necessary survival skills.
Read more about sanctuary islands.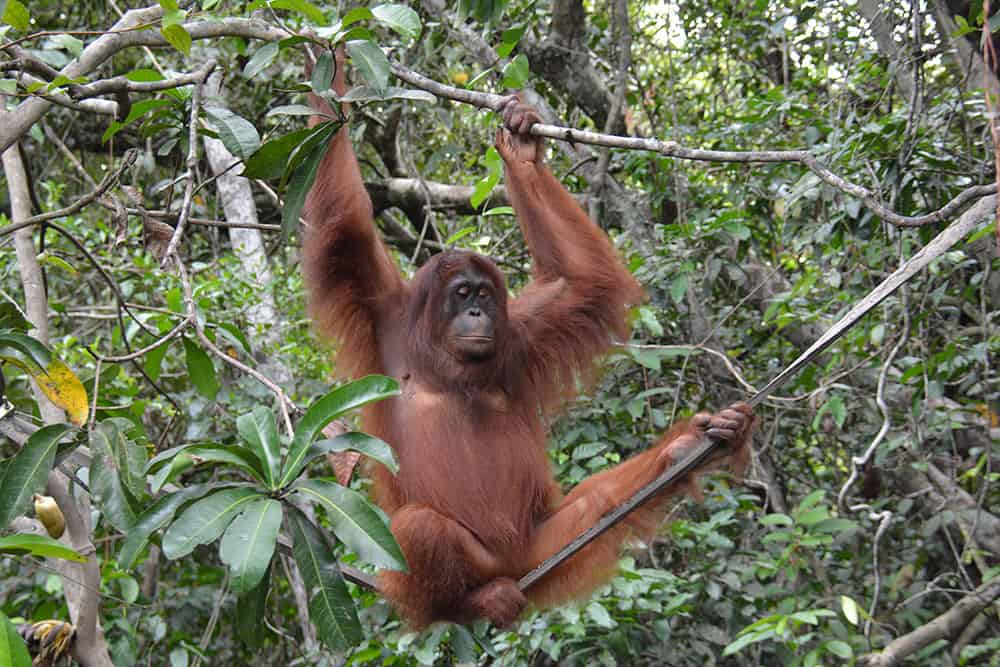 In Dilla's case, it was most likely due to the trauma she suffered after many years in captivity. Among other things, this resulted in her not being able to bond with her baby Delilah. It is very positive that Dilla now can live a calm and safe life on the sanctuary island.
Restrictions protect the orangutans from COVID-19
With this transfer, the total number of orangutans on Badak Kecil Island will increase to 10 individuals. Save the Orangutan was present when two of the first orangutans were introduced to their new home on the island in 2019.
When the three female orangutans were moved to their new home on Thursday last week the team followed strict safety protocols due to COVID-19.
"We at the BOS Foundation are working hard to ensure that orangutans are always managed under the safest conditions, and protected from exposure to diseases that might jeopardise their health and safety as well as their chance to live wild and free in the forest," says Dr. Ir. Jamartin Sihite, CEO at our partner organization BOS Foundation.
Save the Orangutan and BOS Foundation strive to give as many 'unreleasables' as possible a new life on a sanctuary island.
Contribute to our work: Become an Orangutan Partner