In the last two months, three infant orangutans have been rescued and taken to the Nyaru Menteng Rehabilitation Centre. All are recovering from the trauma they have experienced.
Unfortunately, quite regularly young orangutans that have lost their mother are found alone on fields close to forest areas.
In the last two months, three infant orangutans have been rescued and taken to the Nyaru Menteng Rehabilitation Centre in Borneo. The babies were between 6 and 10 months old when they were rescued and were severely traumatized after losing their mother.
The locals contacted the authorities (Central Kalimantan Natural Resources Conservation Agency), and their wildlife rescue team or a joint team together with Save the Orangutan's local partner BOS Foundation rescued the orangutans and handed them over to Nyaru Menteng.
Read more about rescuing displaced and orphaned orangutans.
Signs of positive progress
The 6-month-old male orangutan Ramangai was severely dehydrated and weak when he was brought to Nyaru Menteng. Ramangai was discovered in the forest by a villager when he was hunting for birds. As he was deep in a forested area, the hunter claimed that he had to carry Ramangai for three days, and fed him only coffee and bananas, which resulted in the baby orangutan becoming severely dehydrated. Fortunately, none of the rescued orangutans had any wounds or physical injuries, which is usually quite common.
"Currently, the three newly arrived orangutans are still in quarantine, but are showing signs of positive progress, despite the trauma they had each experienced. Given their stable physical conditions and healthy appetites, we are confident that they will be able to undergo the rehabilitation process upon completion of their quarantine," says Drh. Agus Fahroni, Nyaru Menteng Veterinarian.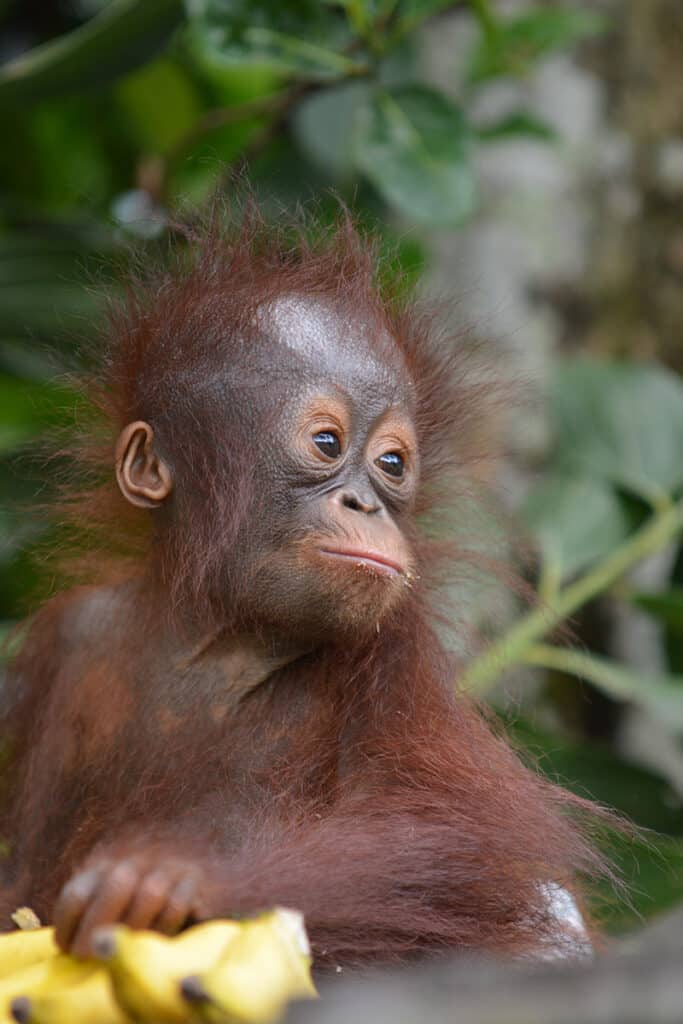 Once the babies have finished the quarantine, they become part of the rehabilitation program. The aim is to train them to be able to survive on their own in the wild. The goal is to release them as adults in protected nature areas so they can continue their lives as wild orangutans.
Get to know the three rescued orangutans here.
Deforestation threatens orangutans
Orangutans are critically endangered. This is partly due to the massive deforestation, as well as many orangutans that are shot every year due to human-orangutan conflicts.
"The three baby orangutans that we received in February and March indicate that deforestation and irresponsible exploitation of forest ecosystems is still ongoing. This is what ultimately prompts wild orangutans to roam into human gardens and fields in search of food and causes the human-wildlife conflict," Denny Kurniawan, Nyaru Menteng Program Manager, explains.
Support our work by becoming an Orangutan Partner.
All rescues and interactions at the rehabilitation centres follow strict health protocols to prevent the spread of COVID-19 to both staff and to the orangutans. The newly rescued and arrived orangutans have been tested and are now in quarantine before they can join the other orangutans at the centre.