It is with great pleasure that we in cooperation with our Indonesian partner, BOSF, have released additionally 13 orangutans this year which brings the total up to 40 released orangutans this year and 234 since 2012.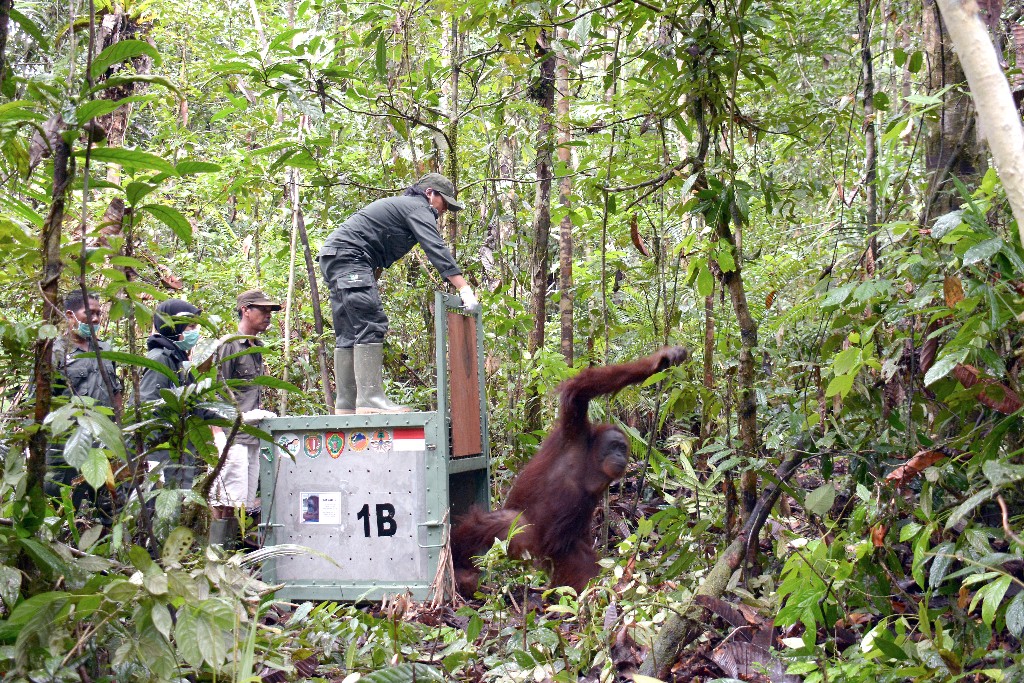 In August, we released 10 orangutans in a new release area called Bukit Baka Bukit Raya National Park in the Central Kalimantan, and those 10 orangutans are now joined by another eight orangutans. The eight released orangutans are five females and three males. The names of the eight released orangutans are Usro, Sincan, Kumba, Anggi, Ijum, Pluto, Ibut and Gurita. They are all adult orangutans who have been through a rehabilitation process at Nyaru Menteng and now are ready to return to where they belong - Borneo's rainforest.
Five orangutans released in October
In addition to the eight released orangutans from Nyaru Menteng, five orangutans from another rehabilitation centre, Samboja Lestari, were released in the mid of October. These five rehabilitated orangutans are called Kent, Rafli, Jamur, J-lo and Saprol and have been released into a rainforest in the Eastern part of Kalimantan since they were rescued from this area.
Below this picture is a short description of Kumba and Pluto's arrival and development at Nyaru Menteng.
Pluto
Pluto was only 2.5 years, when he arrived at Nyaru Menteng on the 29th of December 2002. He was freed by the rescue team, after being kept as a pet for nearly two years. He was extremely undernourished, had several wounds on his body because of the captivity, and he had also lost most of his hair.
Fortunately, the centre's caring staff saved him, but it took five years before he was well enough to come to Forest School along with the other orangutans. He completed Forest School and came out to the island Bangamat in early 2015 and here he did so well that he convinced the technicians that he is ready to be released. Today he is 14 years old, weighs 60 kilograms and he is in good shape. You have fought hard for it, Pluto, and you deserve freedom in Borneo's rainforests!
Kumba
On August 24th 2007 Kumba arrived at Nyaru Menteng, after the centre's rescue team had found a lonely and abandoned orangutan in the central part of Borneo. The rescue team had been tipped about a baby orangutan that wandered restlessly around the outskirts of an oil palm plantation. Although we do not know for sure, it is very likely that his mother had been shot by some of the workers in the plantation.
When he arrived at the center, he immediately underwent a thorough medical checkup that established that he was about 4.5 years old and a little malnourished because he only weighed eight kilograms. Fortunately, he was otherwise well, and after a quarantine period he was part of the Nyaru Menteng rehabilitation program.
On November 9th 2014 he was placed on Kaja Island, where the orangutans live almost without human contact so we can see if they are ready to be released. He was a loner, but he was good at finding food and survive in the rainforest. Therefore, he has now been released at the age of 14 years. Enjoy the freedom Kumba!
With the release of these 13 orangutans, we are well on our way to reach our goal of 250 releases by the end of 2016.
Read more about the release of 10 orangutans in August here >>
Adopt an orangutan and follow it back to the rainforest here >>
---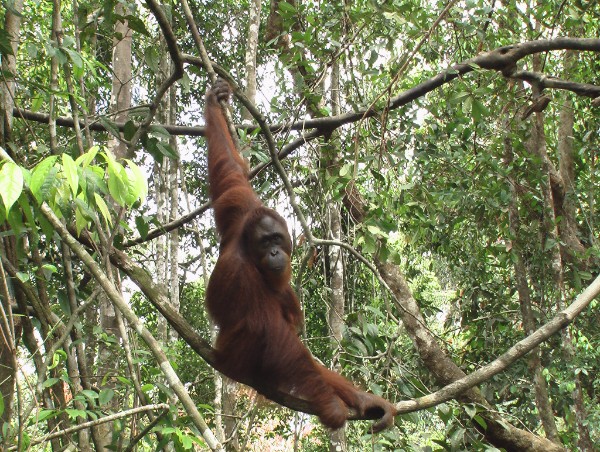 More than 250 rehabilitated orangutans have been released into the rainforest with the help of Save the Orangutan since 2012. Read about our rehabilitation work here >>