Two small baby orangutans saved
At the beginning of October two small baby orangutans were rescued. A barely nine-month-old orangutan was found in a burnt forest area and a three-year-old orangutan was rescued from a sad life locked up as a pet.

Near Sigi Village, in the central part of Kalimantan (Indonesian Borneo), a hungry and malnourished baby orangutan was found in a burnt forest area. Fortunately, the baby orangutan was found in time to be rescued by Nyaru Menteng's caring staff. In nature, the baby orangutan would not survive because baby orangutans are dependent on their mother for the first 6-8 years of their life. When the baby orangutan is found alone, it is probably because the mother has lost her life while defending her baby against poachers.
Gets help at a rehabilitation center
The first examinations of the little male orangutan, who has been named Topan, show that it was at the last minute he was rescued. Topan is thus severely dehydrated and malnourished, and weighs just 1.5 kg.
"We ensure that the needy orangutans get the best possible conditions to develop and hopefully Topan can also return to the rainforest one day, as well as the over 300 other rehabilitated orangutans that have already been released since 2012," explains Bue Heckmann, Head of Communication at Save the Orangutan.
In cooperation with the Indonesian organization BOS Foundation, Save the Orangutan run the world's largest rehabilitation center for orangutans - Nyaru Menteng - where about 500 orangutans receive daily help.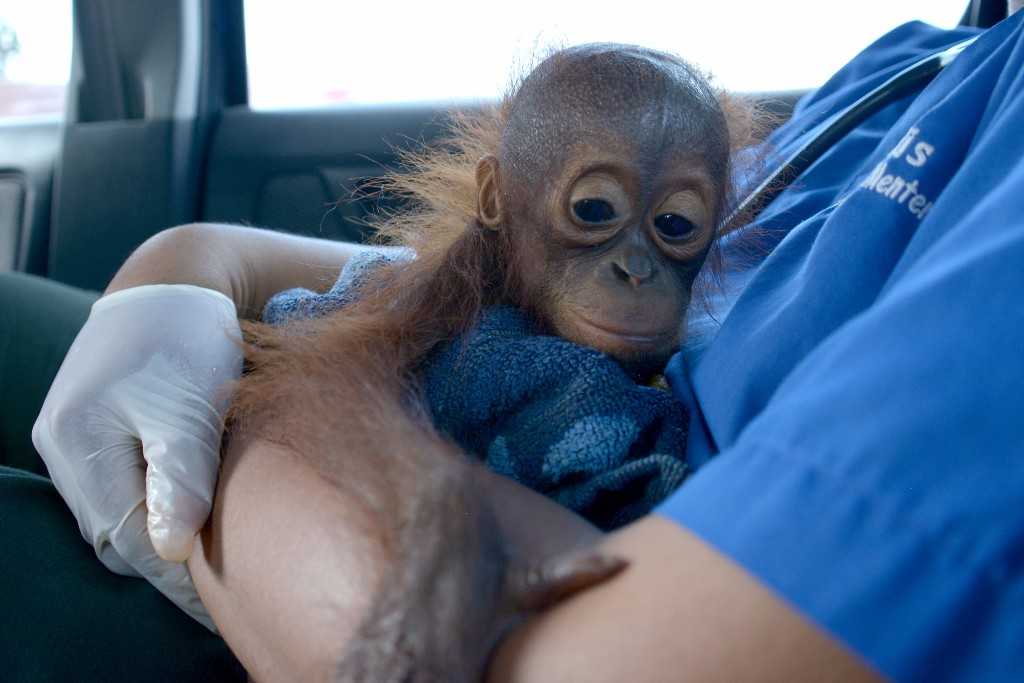 Many orangutans need help
Topan was the second baby orangutan that arrived at the center within just a few days. A couple of days before, a barely three-year-old female orangutan was saved after she had been captured at a very young age and kept as a pet.
"We are experiencing an increasing number of orangutans who need help. This year we have already received 19 baby orangutans, and it's just a fraction of the approximately 3,000 orangutans that die every year due to the deforestation on Borneo or because they are illegally caught as pets, "says Bue Heckmann.
In the summer of 2016, Borneo's orangutan was declared critically endangered by The International Union for Conservation of Nature, as the organization estimated that 86 percent of the orangutan population would be extinct by 2025.
You can help the critically endangered orangutan. Adopt an orangutan here >>
For any additional information or questions, please don´t hesitate to contact Bue Heckmann (tell: +45 2987 3881), Head of Communication at Save the Orangutan

---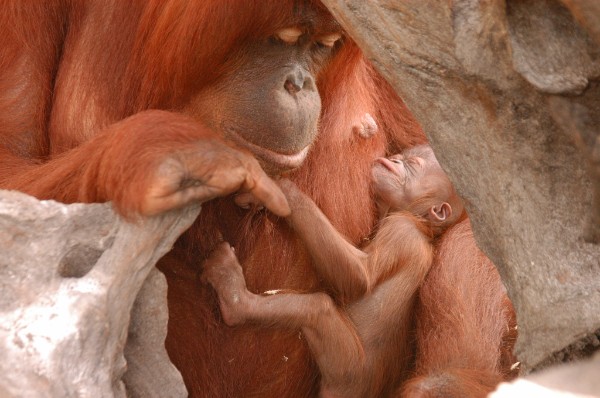 Facts about the orangutan:
Distribution/range: Orangutans only live on the Southeast Asia islands of Sumatra and Borneo, and it is the only great ape found outside of Africa.
Population numbers: In the summer of 2016 Borneo's orangutan was declared critically endangered by IUCN. It is estimated that around 86 % of the population will disappear before 2025. The current population estimate is around 100.000 individuals on Borneo.
Re-production: Orangutans are thought to have the longest childhood in the world, as the age of first reproduction is around 10 years. Orangutan is also the mammal with the longest period between offspring – up to 8 years.
Fragmentation: Many of the remaining orangutan population are fragmented and low in numbers, which creates a high risk of inbreeding and thereby fragile individuals.
---
---