Seven adult orangutans and three baby orangutans released in new rainforest area
Once again we have the pleasure of releasing orangutans from Nyaru Menteng. This time we have released 10 orangutans, and three of them are mothers with their babies. The orangutans are the first to be released into a new rainforest area in the central part of Borneo.
Save the Orangutan has in cooperation with our Indonesian partner, BOS Foundation, released additionally ten orangutans from the rehabilitation center Nyaru Menteng. Thanks to our supporters we have now released 222 orangutans since 2012, which is a unique achievement.
New release area
Previously rehabilitated orangutans from Nyaru Menteng have been released in Bukit Batikap. However, since this area has almost reached a sustainable orangutan population we have looked for a new area for quite a while, and we have now found it. The new rainforest area is called Bukit Baka Bukit Raya national park and it is a highly biodiverse area equal to the size of Luxembourg. This protected rainforest area is suitable for up to 500 orangutans, and it is even easier to take the orangutans there as the trip takes only 10 hours by car from Nyaru Menteng.
10 orangutans released
Six female orangutans and four male orangutans have been released. Three of the orangutans are mothers with their babies, and we look forward to follow the baby orangutans and their mothers' new life in the rainforest. During the first couple of months the orangutans will be closely followed by a monitoring team that are ready to help in case the orangutans get into unexpected problems.
Fortunately, the majority of the orangutans make the transition from the center to the rainforest without problems. Up to 92 percent of the released orangutans make it through the first few years in the rainforest. You can help save the critically endangered orangutan. Adopt an orangutan and follow it back to the rainforest
here >>
---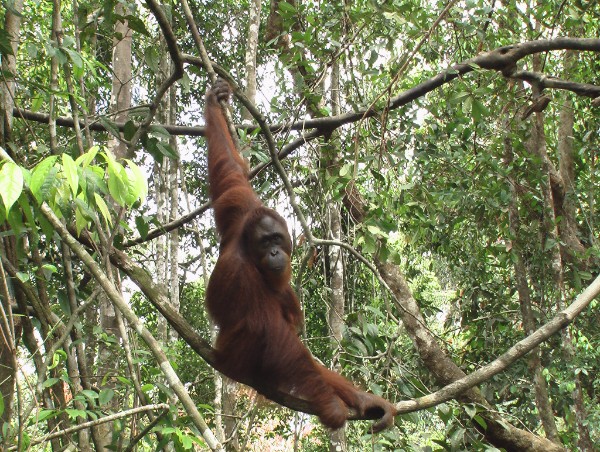 More than 200 rehabilitated orangutans have been released into the rainforest with the help of Save the Orangutan since 2012. Read about our rehabilitation work here >>