Baby orangutan survived being shot and captured
A barely eight months old baby orangutan got a tough start in life, when it was first shot at with an air rifle and then captured before Nyaru Menteng's rescue team heard about the baby orangutan and rescued it. The baby orangutan is just one of three orangutans that were saved during the month of September.
Today the baby orangutan Bawan is doing good at Nyaru Menteng. Thanks to the center's caring staff Bawan is slowly recovering, but she has been through more than a little baby orangutan should have.
Bawan was kept as a pet
We do not know how Bawan was captured, but Nyaru Menteng's rescue team was tipped by a local official that a man in the central part of Borneo held a baby orangutan captive. The official had immediately told him that it was illegal, but despite this, the man had kept the orangutan in captivity.
The rescue team took action at once and went out and freed the baby orangutan, but when they arrived, the man claimed that he had found the baby orangutan all by itself in a recently cleared forest area. When the rescue team brought the baby orangutan to Nyaru Menteng's doctor, the doctor took X-rays of the orangutan, which showed that the baby orangutan had a bullet fired from an air rifle in her left knee. Thus, the baby orangutan had previously had a violent encounter with human beings.
At Nyaru Menteng we found out that the baby orangutan was a barely eight months old female orangutan. Today she is fortunately doing much better at Nyaru Menteng, where she has been named Bawan, and even though she is small for her size she will be fine.
Two other orangutans have also been rescued
During September two other orangutans have also been rescued. One of the orangutans was also about eight months old and was held captive by an oil palm plantation worker until the rescue team freed the orangutan. The other orangutan was a barely six years old male orangutan, who had also been kept as a pet.
Fortunately, both orangutans are freed and the medical check has shown that they will recover. They are now all part of the rehabilitation program and some day they will hopefully return to the rainforest.
You can help save distressed orangutans and give them a second chance in life. Adopt an orangutan and follow it back to the rainforest. Read more here >>
---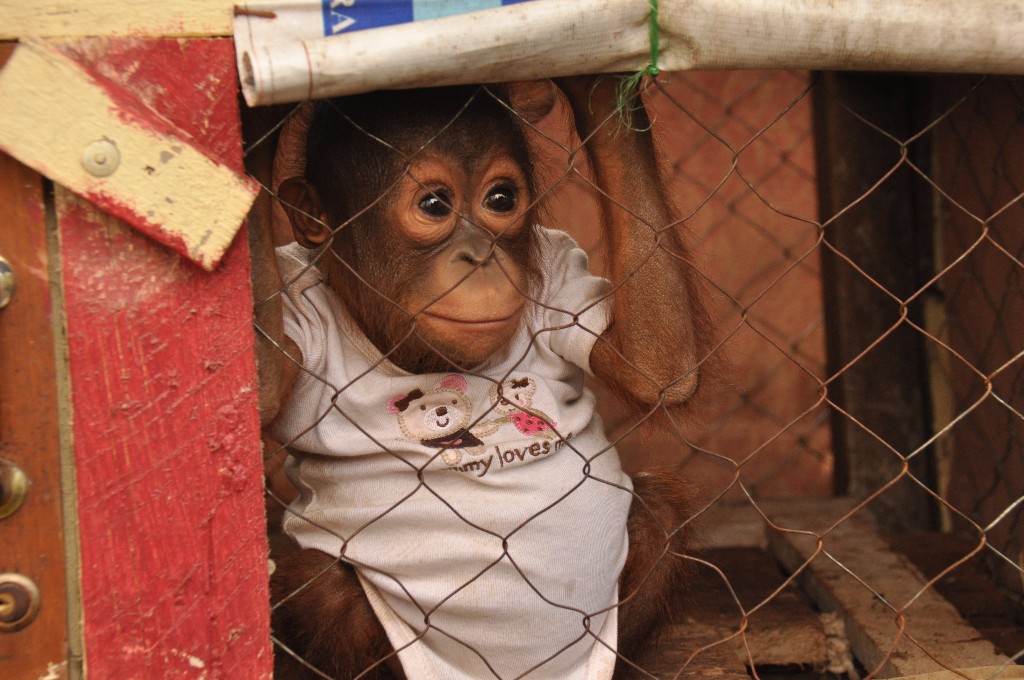 Illegal wildlife trade
Every year 200 to 500 orangutans are sold on the illegal market for pets. Unfortunately, our experience shows, that four to five times as many die during – or shortly after – the capture as the baby orangutans are deeply dependent on their mother and they may have difficulties getting over the loss of their mother.