One year old orangutan saved from starvation
A small orangutan baby has been saved from a bleak fate by the Nyaru Menteng's rescue team, which has already been on the first rescue mission of the year. Despite her tough start to life, she has already started to show signs that she can someday return to Borneo's rainforests.
Unfortunately the Nyaru Menteng's rescue team is rarely without work to do and on January 12 it had its first mission of the year. A small orangutan baby had been observed being alone on the outskirts of a forest clearing, and an orangutan mother would never leave its baby alone on the ground. Therefor the rescue team had to assume that the worst had happened to the mother, and go rescue the baby.
Hungry and underweight
When the rescue team arrived, they found a small, female orangutan, who was very hungry. They immediately gave her some small bananas and treated her for a wound on her stomach, before they brought her back to Nyaru Menteng, where she received a more thorough medical examination.
Fortunately, the wound turned out not to be serious, and she could get it treated without an operation. An x-ray examination did not show any breakage either, and the center's primary job now is to make her feel safe and gain weight. The medical examination revealed, that she is just under a year old, and that with her weight being at just 2.6 kilos, she would not have survived many more days, had it not been for the rescue team.
Showing healthy signs of life
At Nyaru Menteng she has been given the name Jacqui, and she is now part of the center's rehabilitation program. She has started day care, where she, along with 16 other orangutan babies, is starting to develop her motor and social skills. Here in the beginning she has mostly been keeping to herself, which is quite natural, as she needs a little bit of time to adjust to the new surroundings and experiences.
Despite her young age, she has already demonstrated that she feels at home in the day care's small trees, where she is better than most other orangutan babies at climbing around. She has also slowly begun to gather twigs and leaves to build her own little nest to sleep in.
You can adopt an orangutan and help give orphaned orangutan babies like Jacqui a new start in life, so that she can one day return to Borneo's rainforests. Adopt an orangutan here >>
---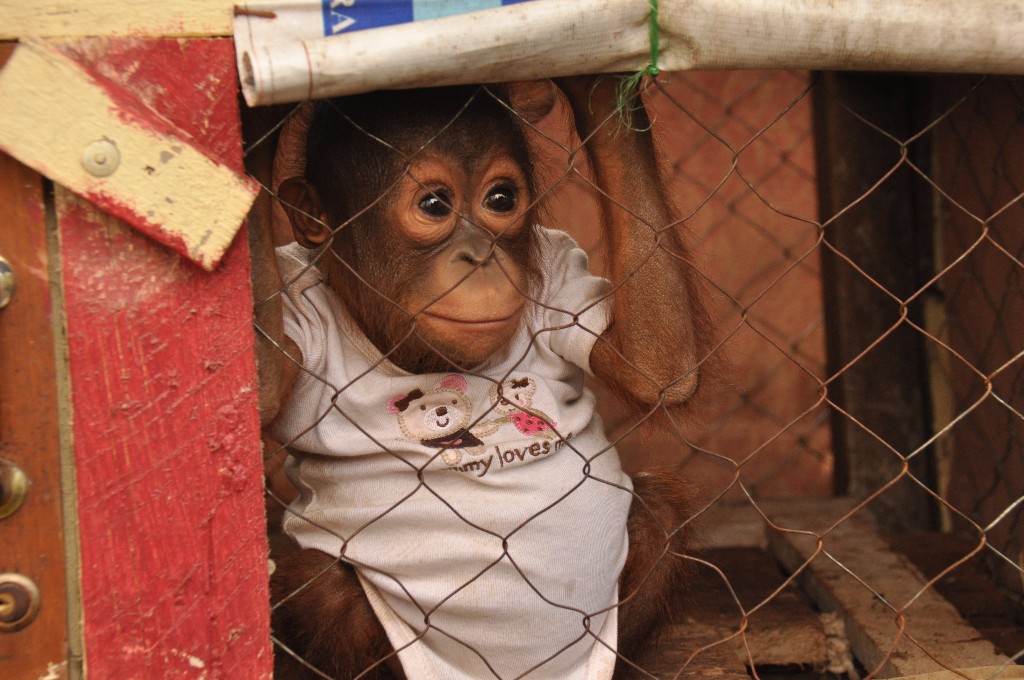 Illegal wildlife trade
Every year 200 to 500 orangutans are sold on the illegal market for pets. Unfortunately, our experience shows, that four to five times as many die during – or shortly after – the capture as the baby orangutans are deeply dependent on their mother and they may have difficulties getting over the loss of their mother.