Thousands of new trees are growing in Mawas
Save the Orangutan's reforestation project in Mawas is moving forward with excellent speed. With help from local villagers living close to the protected Mawas area, 10 hectares of destroyed forest has been replanted providing new life to this land where wild orangutan's previously roamed.
New hope is growing in an area where the rainforest has been destroyed for decades. As thousands of seedlings are now covering 10 hectares of land, rising from 3 hectares in January. These seedlings are the first trees in a major reforestation project managed under Save the Orangutan's rainforest programme called SOS Borneo. The reforestation area is called Rantau Upak and is part of a larger forest area (Mawas) where 3,000 wild orangutans live has had conservation status since 2013.
More than 10,000 trees are planted
The seedlings for the first 10 hectares have been grown in local nurseries where indigenous people have carefully collected the seeds from the trees in the remaining forest areas. The most orangutan-friendly trees –such as rambutan fruit trees - have been selected, so that the forest once again one day will be home for a wild orangutan population. More than 50 hectares of land has been prepared for new seedlings in this first round of the reforestation project. Every hectare needs more than 1,100 trees to create a healthy rainforest that can support Borneo's unique wildlife.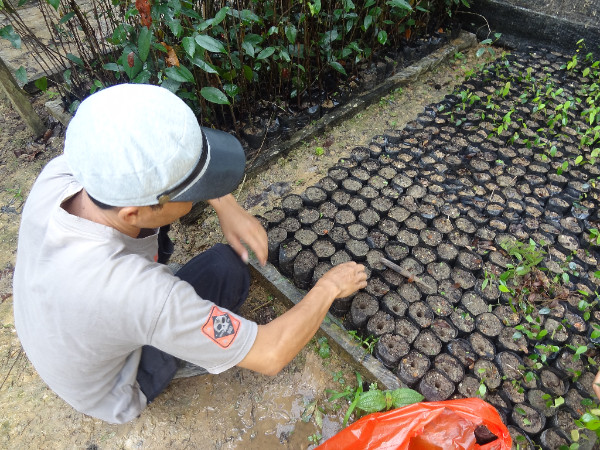 Creates local development
Save the Orangutan and our Indonesian partner, BOSF, is working together with local communities in order to ensure local ownership and dedication for protecting the new and rising rainforest. Therefore, two reforestation groups have been created. These groups currently provide work for 27 villagers that work with planting the seedlings and monitoring these, to see if they survive the first years where they are more exposed to the sun. If any seedlings die, they replace the dead seedlings with new ones.
The next step in the reforestation project is to create a plant nursery in one of the villages. Save the Orangutan will support and train the people running it, so that we can get the very best suited trees for the area. By doing so, the project is not only creating new rainforest, but also local employment and a sustainable income within eco-restoration in the local community.
Only possible with the support from our donors
Thanks to a testament made by a former member Save the Orangutan was able to begin our rainforest program – SOS Borneo – and prepare the land for the seedlings. The testament lay the foundation for the program, but thanks to SOS Borneo partners, the project is continuously growing and new hope for future orangutans and other wildlife is growing as well. Until they're safe!
Support the planting of new trees by signing up as a SOS Borneo partner here >>
Read more about SOS Borneo here >>
Written by: Maja Rosendahl Rosenmark