On February 17 three orangutans had reached the end of a long rehabilitation process and were returned to the wild. In addition to the release a new post-release monitoring camp was inaugurated.
Three orangutans have successfully completed a lengthy rehabilitation process through Forest School, culminating in a stay on a Pre-release Island. The orangutans have now been released in the Bukit Baka Bukit Raya National Park (TNBBBR).
The 15-hour journey to TNBBBR began from the Nyaru Menteng Rehabilitation Centre. Batola, Paduran and Unyu have all lived here for several years.
Read more: The first release of the year
Three orangutans are now enjoying life in the wild
Batola was brought to Nyaru Menteng when he was 5 years old. When he joined Forest School he was not a small baby anymore.  Soon he became aggressive towards staff which lead to the decision of  moving Batola to a Pre-release Island. Batola thrived in his new environment and spent most of his time alone. Batola is now 17 years old.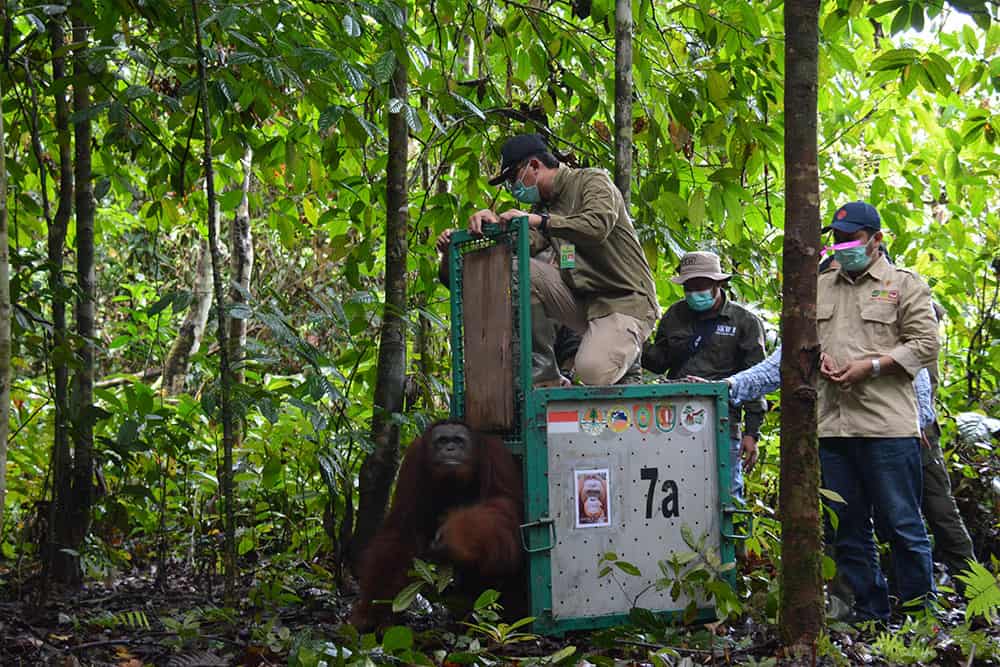 Paduran was only 18 months when she was brought to Nyaru Menteng. She has always been calm and social and enjoyed the company of other orangutans during her time at the Pre-release Island. Paduran is now 12 years old.
Unyu was rescued from a local resident when he was three years old. At that time he behaved like a wild orangutan and did not like people. Because of this he was placed in the Socialization Complex to live together with other semi-wild orangutans. Unyu still doesn't like people, which is a very positive asset for a wild orangutan. Unyu is currently 6 years old.
New monitoring camp inaugurated
It's always a reason to celebrate when rehabilitated orangutans become ready for life in the wild. This time, however, there were two reasons to celebrate. A brand new camp for the TNBBBR post-release monitoring team was inaugurated.  The camp was given the name 'Lewun Kahio' which means 'Orangutan HomeVillage' in local language.
As soon as the orangutans were released, the post-release monitoring team got to work. They'll keep a close watch on the released orangutans to make sure they'll adapt to their new surroundings.
Read more: Nest reveal orangutan activities
The release was carried out by our Indonesian partner BOS Foundation together with the Central Kalimantan Natural Resources Conservation Agency (BKSDA), the Directorate of Biodiversity Conservation and TNBBBR.