Last month marked an important moment for eight orangutans as they finally started life on a Pre-Release Island. Here, they will develop their natural behaviour and skills in a natural environment. Among the eight orangutans are two of Save the Orangutan's most popular adoption orangutans: Valentino and Cinta.
Valentino looked confused when his cage was opened, as if he was thinking "where am I?" He had just eagerly helped to lift the door to the transport cage so he could run out into freedom, but then he stopped to look around. He was in a whole new environment. In a forest.
Valentino was released on the Pre-Release Island Badak Besar in the Salat Island Cluster. This is the last stage of the rehabilitation, which is why it is a big step for the orphaned orangutans.
Last month marked an important moment for a total of eight orangutans at the Nyaru Menteng Orangutan Rehabilitation Centre, as they finally entered the important pre-release stage of their rehabilitation. Two of them, Valentino and Cinta, are well-known as they are part of Save the Orangutan's adoption program.
Read more about the rehabilitation here.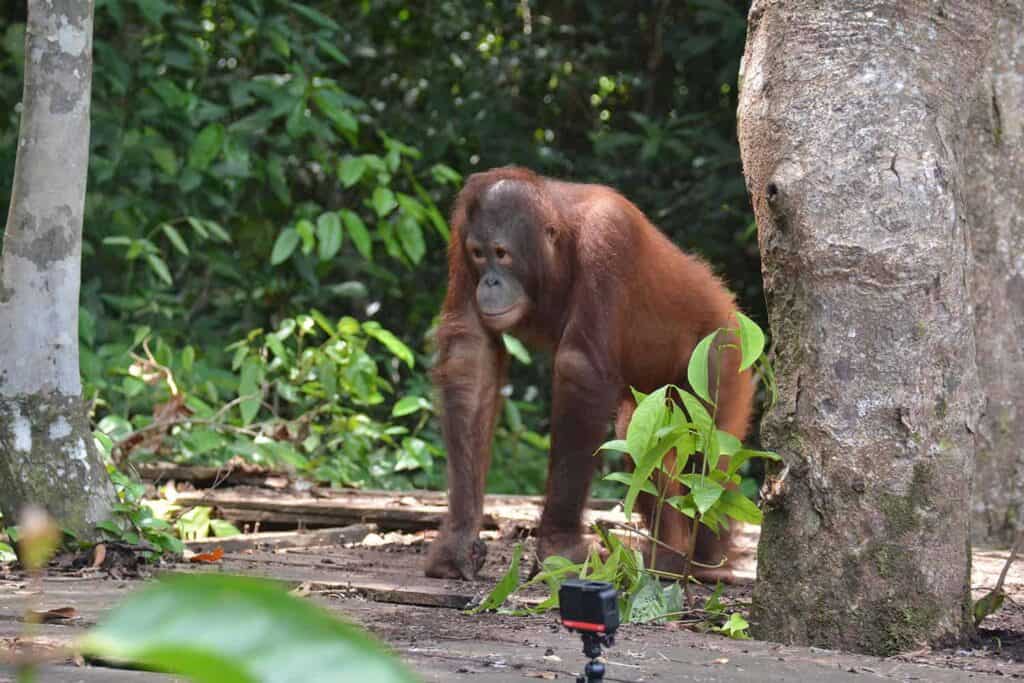 Two separate trips to the Pre-Release Island
On the Pre-Release Islands the orangutans live in natural surroundings while honing the skills they have learned in Forest School. When they have learned to survive on their own, they are ready to be released into the wild.
Transporting the eight orangutans to Badak Besar Island involved two separate trips: the first trip was with Cinta, Jumbo, Valentino, and Hanin. The second round was two days later with Jiga, Petruk, Gonjales, and Tharga.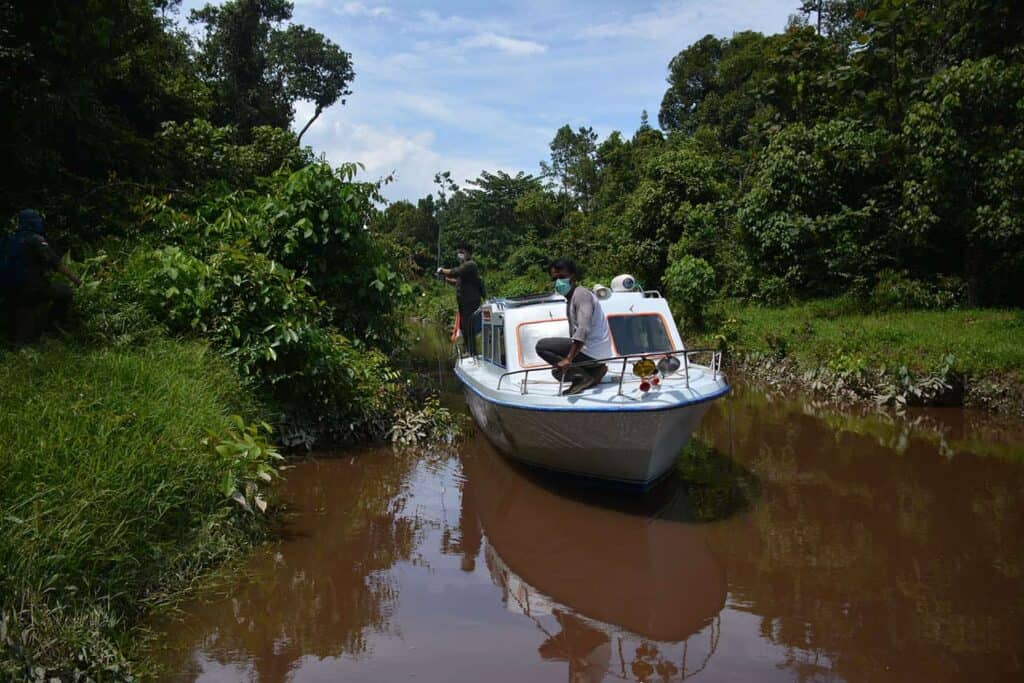 Strict COVID-19 health protocols were followed. For this reason, most of the journey was done by boat. Usually, the teams travel most of the way in cars over land. However, the river route is now used to avoid traveling through local communities and to eliminate any infection risks.
Support our work: Become an Orangutan Partner.
Different reactions
Fortunately, Valentino recovered quickly from the initial confusion when his cage was opened. He found some fruit and climbed up into a tree. Jumbo, however, shot out of his cage and snatched some bananas before he headed out to explore his new home.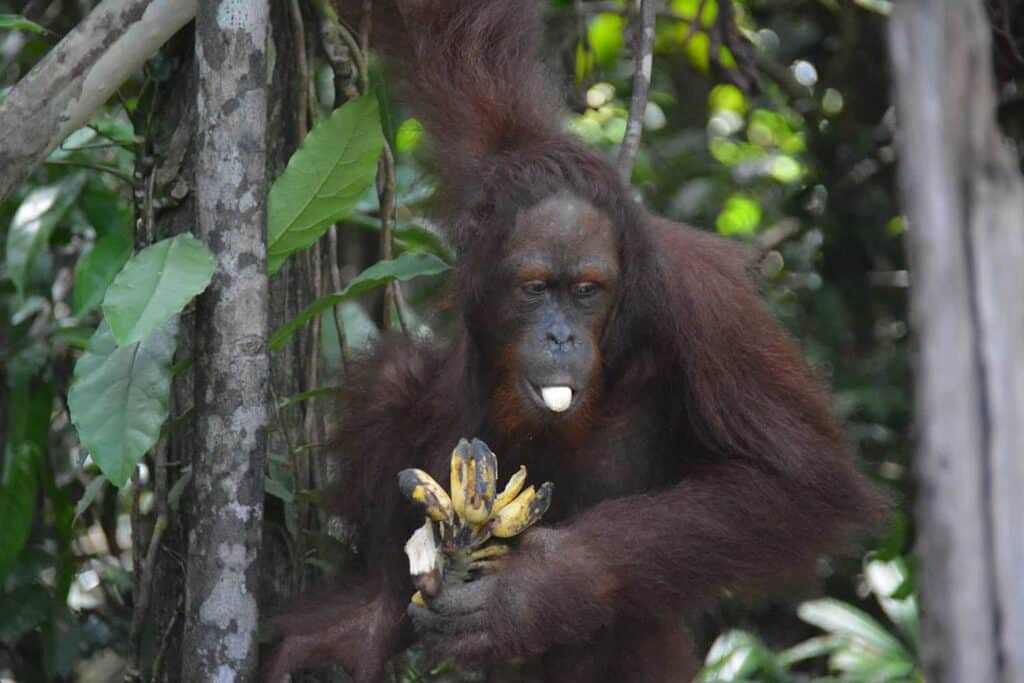 When Cinta left her cage, she ran the opposite direction than planned. She ran straight towards the cameras and the members of the team. Luckily, Hanin, who was already sitting high up in a tree, eating forest food, caught Cinta's attention as she understood that it was time to start exploring the forest.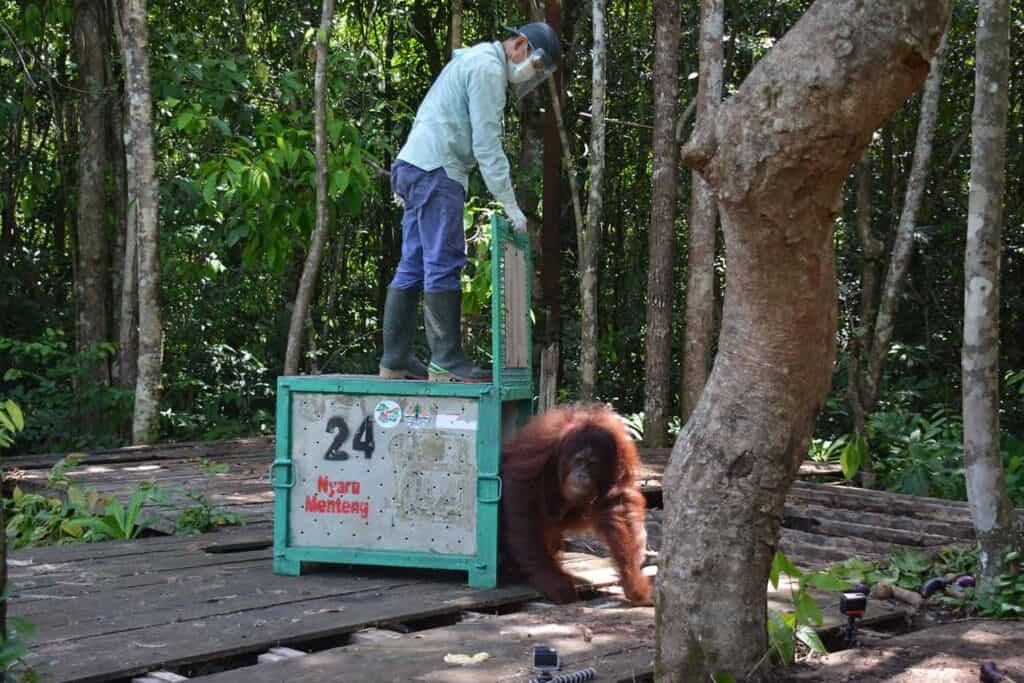 Two days later, on the second trip, 14-year-old male Jiga, known for his temperament, was released. He upheld his reputation by immediately getting into a fight with Petruk after leaving his cage. Jiga then turned his attention toward the team members, who quickly retreated to the safety of the boat.
All orangutans seem to have adjusted well to their new surroundings and we look forward keeping you updated on their progress.