The Post-Release Monitoring team can now share their observations from the first day in the wild for the seven recently released orangutans.
In early June, seven orangutans were released in the Bukit Baka Bukit Raya National Park (TNBBBR). Now we have some more details to share about the Post-Release Monitoring team's observations from the orangutans' first day in the rainforest.
In general,  these newly-released orangutans possess excellent foraging abilities in the forest and had an excellent start to their new life in the rainforest. Below you can read more about each of the seven orangutans' first day of freedom.
Support our work: Become an Orangutan partner
Suayap
Once her cage was opened, Suayap enthusiastically climbed up a nearby tree and ignored the activities going on around her as the release team prepared to open another cage.
Suayap, who was repatriated from Thailand in 2006, seemed to recognise the many types of natural food around her. She was observed making efforts to approach Barlian and an unidentified orangutan, but did not interact with them.
As soon as the day began to turn dark, Suayap started building her evening nest up in a tree about 25 metres off the ground, not far from where she was released.
Unggang
Unggang is ten years old and has lived at Nyaru Menteng since he was about 3 years old. a He was a victim of a forest fire and was handed over to the rehabilitation centre by a local resident.
Unggang climbed up a kapening tree after he was released. It took him quite a while to enjoy all the fruits around him. Unggang also built his night nest as soon as the day turned dark, up in a tree at around 30 metres off the ground and about 100 metres away from his release point.
Barlian
When 10-year-old Barlian was released, he needed more time to observe his new surroundings after his cage was opened, unlike the other orangutans. He walked along the ground before climbing up a tree.
Once Barlian was up in the trees, he approached Suayap, who was released before him. While the two were spending time together, an unidentified orangutan came by. Barlian wrestled with this orangutan! It seemed that the 20-hour journey had not exhausted Barlian, as he managed to outmuscle the unidentified orangutan. He even tried to give chase when his challenger fled!
Barlian chose to repair a used nest he found nearby for his night nest, around 20 metres off the ground.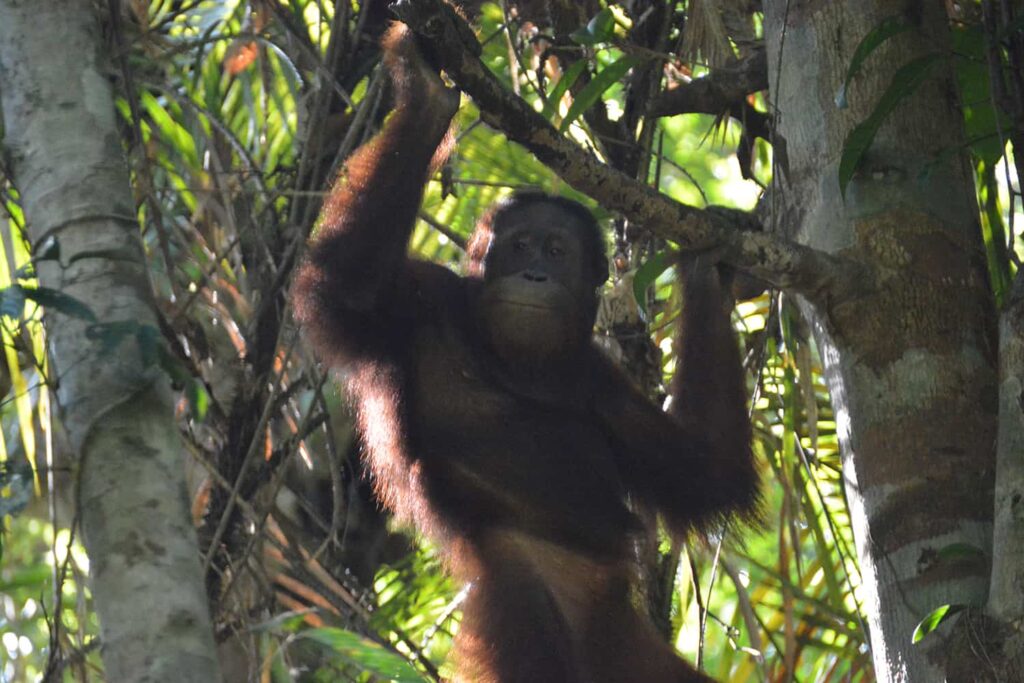 Reren
Reren is a gentle and charming 8-year-old female orangutan who was found crawling alone close to a rice field when she was 12 months old.
Reren was released alongside Darryl, Amber, and Randy. At the start of observations, the four orangutans were seen interacting and foraging alongside one another. Reren was observed picking on Amber, but there was no aggressive behaviour between them.
Reren was active and ate a lot of forest food. She built her nest close to Amber's nest, around 250 metres away from the point where both of their cages were opened.
Amber
Amber is a 16-year-old orangutan who has spent 15 years in rehabilitation before she was ready for a life in the rainforest.
From the moment Amber's cage was opened by the release team, Amber displayed aggressive behaviour, as though threatening to approach her observers. However, despite her threats, she ultimately chose to follow Reren.
She stayed by Reren and even built her night nest adjacent to her.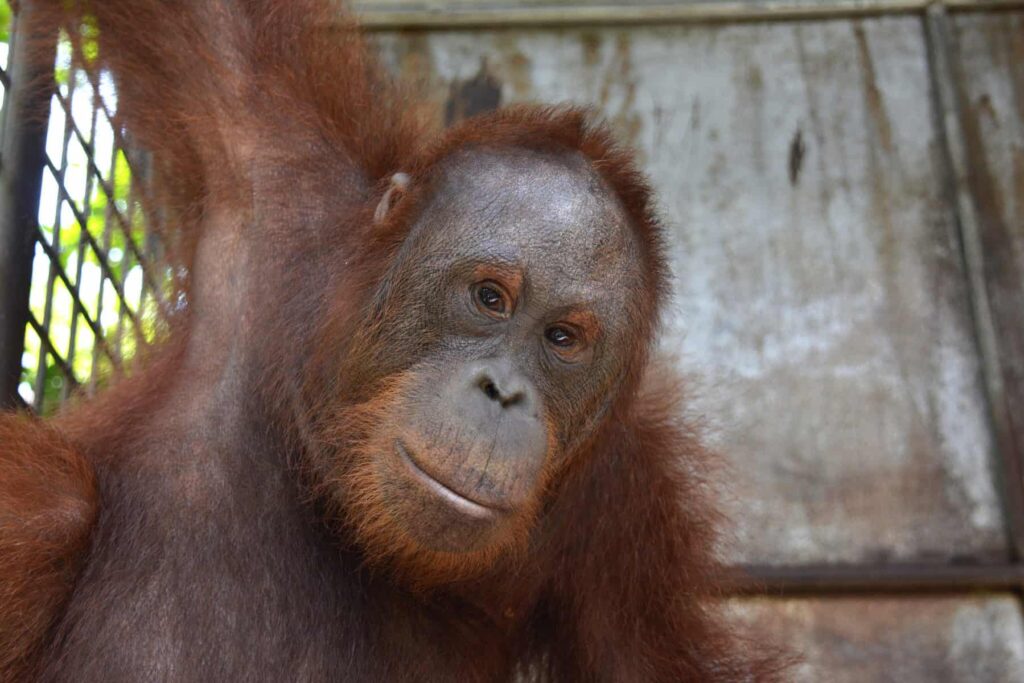 Darryl
Darryl is a 12-year-old male orangutan who was handed over to the authorities when he was about six months old. A local resident had allegedly purchased the male baby in Bali but later decided to hand him over to the authorities.
After his cage was opened, Darryl briefly checked his surroundings before climbing up a nearby tree. Once he reached the treetop, he immediately started to fill his stomach, apparently hungry after the long journey. Darryl ate leaves, termites and other things he could find.
He was also seen socialising, wrestling, and playing chase with Randy for about half an hour. Finally, Darryl decided to build his night nest nearby his release point.
Randy
14-year-old Randy showed his displeasure at human presence when his cage was opened. With his hair raised on end, he rushed up a tree, but then later calmed down.
Randy seemed to be very content to be exploring his new environment and was seen eating a variety of natural foods. He was also seen wrestling Darryl before making his night nest.