Two weeks ago, eight orangutans were moved to a Pre-release Island where they now will have to prove that they are able to survive as wild orangutans.
Once the baby orangutans at the Rehabilitation Centres have made it through all the stages of Forest School it is time for the very last step of rehabilitation: the Pre-release Island.
These are forested islands where orangutans can live in a natural environment while being monitored. Here they get to test the skills they have learned in Forest School. Once they have proven their independence, it is time for them to be released into the wild.
Moving to a Pre-release Island is, therefore, a big step. And eight orangutans have succefully taken this step earlier this month. One of them is Meryl who is one of our adoption orangutans.
The orangutans curiously explored their surroundings
Transporting the eight orangutans from the Nyaru Menteng Rehabilitation Centre to the Badak Besar Pre-release Island required two separate trips.
The first trip took Beni, Sura, Meryl and Winey on November 10 to their new home. The second trip took Obama, Kejora, Susanne, and Liti to the island two days later.
When the transport cages were opened after the four hour river journey all orangutans were eager to play around the feeding platform. Shortly after, they bravely started to explore their new surroundings and showed little hesitation when ascending tall trees or dangling from high branches.
What now?
Now all eight orangutans are slowly but surely growing accustomed to looking for their own food on the island. However, the staff will also distribute supplementary foods on designated feeding platforms every day to ensure that all the orangutans are getting the necessary nutrition.
We look forward to keeping you updated on how they are doing!
Support our work: Become an Orangutan Partner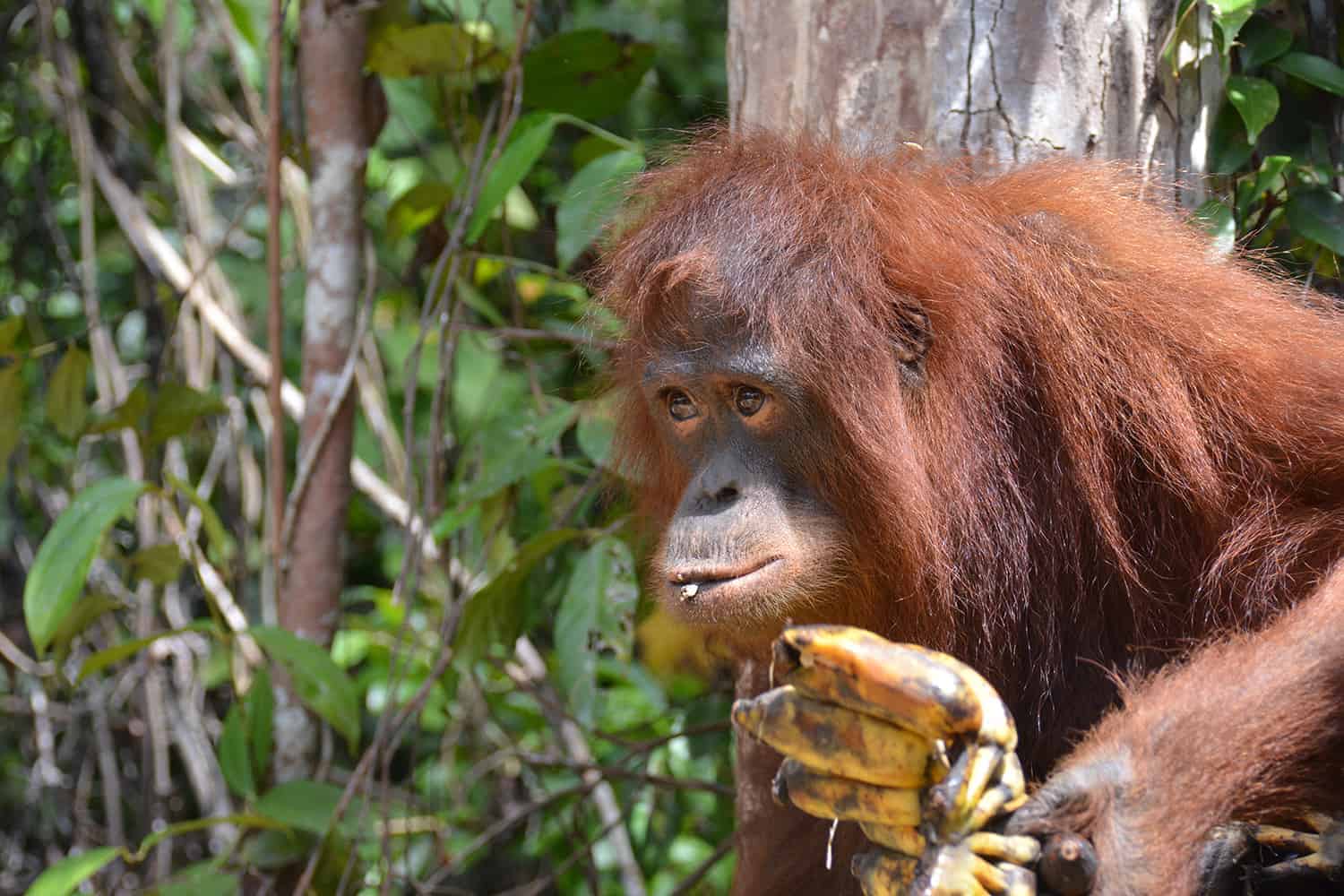 Meryl
Meryl was found when she was eight months old, living with a family that kept her as a pet. The rescue team found her lying in a basket. Her arm was broken, she was malnourished and had no spark left in her big brown eyes.
Today, Meryl is a confident and very active orangutan who has done well in Forest School. She is seven years old and ready to test her skills on the Pre-release Island. Meryl is also a popular orangutan in our adoption program and her move is, therefore, big news for many of our supporters.