A baby orangutan was rescued and brought to the Samboja Lestari Rehabilitation Centre on August 9. The rescued male orangutan is in quarantine and is after circumstances in good health.
Just after midnight on 9 August, the wildlife rescue team from the Central Kalimantan Natural Resources Conservation Agency (BKSDA) delivered a baby orangutan, that had just been rescued, to the Samboja Lestari Orangutan Rehabilitation Centre.
Reportedly the villagers had found the baby orangutan. Following the news, the rescue team had immediately rushed to the village, located more than 200 kilometres away, to rescue the baby orangutan.
Read: Already three babies rescued in 2021
The baby was found alone without his mother
According to the locals the baby orangutan was found alone in the forest, without its mother. The person in contact with the rescue team claimed that he knew it was illegal to keep orangutans captive. That is why he immediately contacted the local authorities and the fire department.
The baby orangutan was kept for a night at the locals' house. The baby was offered some bananas and milk, but would only consume a small amount. On the way to the rehabilitation centre, the rescue team fed the baby milk.
Read more about rescuing orangutans here.
Slow and steady progress
After being handed over to our partner BOS Foundation's team at Samboja Lestari, the baby male was immediately taken care of by a caregiver. The vet in charge for the night conducted an initial examination and gave more milk to the baby orangutan.
During the preliminary health examination, it was discovered that the baby was a bit thin, weighing only 2.7 kg. He had no injuries, was estimated to be around seven months old, and showed signs he was suffering from an umbilical hernia.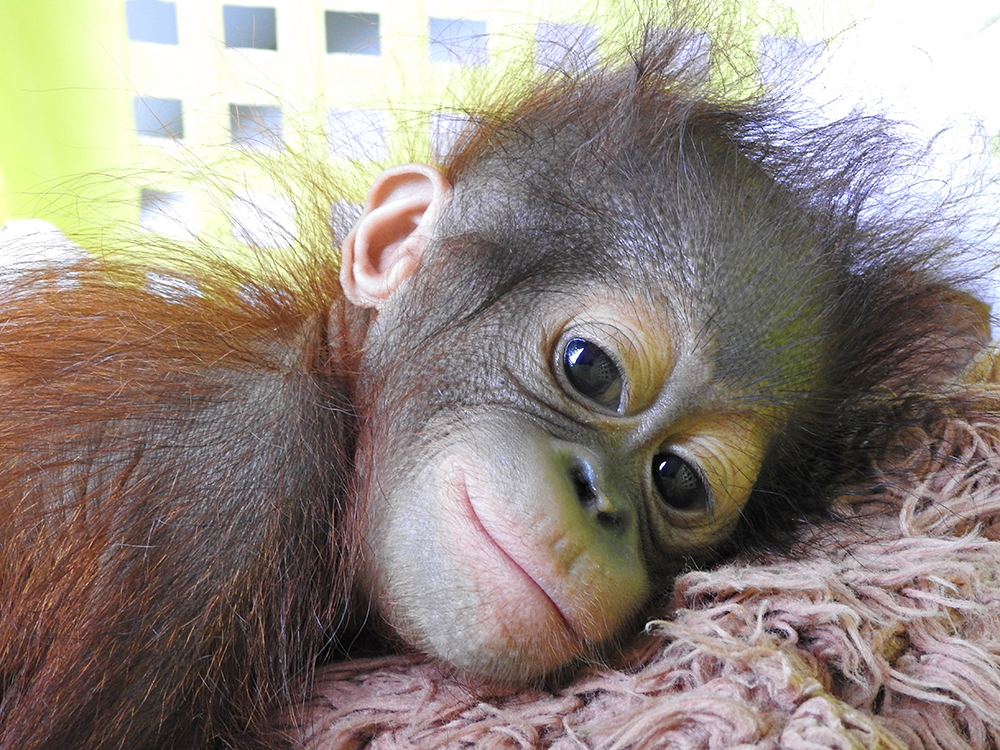 All rescues and interactions at the rehabilitation centres follow strict health protocols to prevent the spread of COVID-19 to both staff and to the orangutans. The baby orangutan was placed in quarantine, and the medical team conducted a COVID-19 test on the baby, which produced a negative result.
A few weeks have since passed, and the care givers have reported that the baby orangutan is in good health and actively plays, especially with the plush toy in his basket. He has also been given a name, Galaksi, the Indonesian word for Galaxy.
Once Galaksi has finished quarantine and is ready, he becomes part of the rehabilitation program. The aim is to train the orangutans to be able to survive on their own in the wild. Once they complete their rehabilitation journey, they are released into the wild in protected nature areas so they can continue their lives as wild orangutans.